Planning a Vietnam beach holiday? Vietnam has amazing beaches. It doesn't quite have the reputation of being a beach destination the way Thailand does, but that doesn't mean that you can't find stunning beaches in Vietnam. Quite the opposite actually. The beaches here may not be as famous as their Thai counter parts, but that makes them all the more attractive, as even the best beaches in Vietnam are still fairly local and not too crowded.
Here are my favorite picks for a beach holiday in Vietnam, in reverse order: The top 12 beaches in Vietnam.
12. Nha Trang Beach
Nha Trang is possibly Vietnam's most famous beach destination. Nha Trang itself is one of the larger cities in Vietnam, and Nha Trang Beach is a massive, miles-long stretch of white sand and clear turquoise waters. The beach is stunning. That, combined with Nha Trang's popular nightlife scene, makes it a prime destination for both Vietnamese and international travelers. This also makes the beach rather crowded in high season though, so if you're looking for a quiet, relaxing beach, Nha Trang probably isn't your thing.
We went during Vietnamese New Year, and every single hotel in the city was fully booked. The beach, therefore, was also incredibly busy. Around the touristy area in the South end of the city, the beach is rather commercial with sun beds of different "categories" ranging from "VIP" to "economy" taking up a lot of space. If, like us, you don't like lying between long, tightly-packed rows of tourists, take a walk to the very South end of the city, past the commercial part, and you'll eventually end up on a nearly empty stretch of beach with lots of space to put down your towel and relax.
Where to stay in Nha Trang:
Nha Trang has hundreds of hotels and guest houses that will fit any budget. We stayed at Lucky Star Hotel, a 3 star property just off the main strip of Nha Trang. It was a decent option for price/value, but if you're looking to splurge, I'd recommend checking out the Evason Ana Mandara Hotel. It's directly on the beach, and on the very Southern end of the city, which I'm recommending above.
11. Tuy Hoa Beach
Tuy Hoa is most famous for Tuy Hoa Air Base, which was a US Air Force Base during the Vietnam War. It's not in any way a touristy city. Rather, the city itself is somewhat ugly, it reminded us of soviet architecture of the 1980s. Still, the place is worth a visit. We originally chose Tuy Hoa as, after five days in Mui Ne, we wanted to get away from tourist towns and wander off the beaten track. Tuy Hoa is about as far off the beaten track as you can get while still being on the main train line of the Reunification Express.
The beach is big, impressive, and decidedly empty. But it's the friendly people and the street food that set this place apart. In the evening, near the city center and near the train station, you'll find lines of street food stalls selling soups, banh mi and one of my favourite Vietnamese dishes, banh xeo: sizzling savoury crèpes, served with massive plates of fresh herbs. We didn't see a single other Westerner here in our two days in Tuy Hoa, and the street food sellers were enthusiastically inviting us to try their food and trying to teach us about Vietnamese cuisine and correct rice paper wrapping techniques. Them not understanding English and us not understanding Vietnamese did not deter either side, so we had some fun evenings after our beach strolls!
Where to stay in Tuy Hoa:
Tuy Hoa is not set up for tourism at all really. There are a couple of hotels by the beach, however, since those get rather average reviews, we decided to go for the Cen Deluxe Hotel. It's walking distance from the train station, and offers free private shuttles to the beach, as well as the option to use the pool at a beach club for free. The hotel itself is a five star property, and the rooms are nice, but don't expect five star service or food. It's primarily a business hotel.
10. An Bang Beach, Hoi An
An Bang is a lovely beach towards the Northern end of Hoi An, and is typically much less crowded than popular Cua Dai Beach. In February, it was mostly empty. There were a bunch of the iconic round Vietnamese fishing boats lying around in the sand, which made for great posing opportunities. The water can get quite cold, so if you're looking for a bathtub, this isn't it. Nonetheless, it's a great beach to spend an afternoon relaxing and enjoying the sun. I recommend picking a hotel in town with free bikes and cycle out to An Bang Beach. Don't forget to pick up a picnic on the way – a couple of banh mi and some fresh fruit are perfect beach picnic fare.
Where to stay in Hoi An:
Hoi An is famous for its homestays, so we tried Botanic Garden Homestay. It was more like a Bed & Breakfast than a homestay, but it did have a nice garden, served a great little breakfast and the family took good care of me when I got sick, even offering to bring me breakfast in bed. If you're looking for a romantic beach vacation or a splurge, check out The Nam Hai Hoi An.
9. Da Nang Beach
Da Nang Beach is another city beach, a long stretch of golden sand with the skyline of Danang behind you and the South China Sea in front of you. The beach is popular with locals, but the Vietnamese tend to avoid the sun, so if you're planning on doing some tanning, you'll have plenty of space. It gets busier in the evenings, when people come out to relax with family and friends or to play sports. Beach volleyball and football seemed most popular when we visited. In the mornings, fishermen bring their catch of the day to the beach and it turns into a lively seafood market. It doesn't get any fresher than this! So if you're staying in an apartment with cooking facilities, this is a good place to do your shopping.
Where to stay in Da Nang:
We stayed at the Zenta Hotel, where we had a nice double room with sea view and a balcony just a block away from the beach. The city is being built up though, especially in the area near the beach, so check out some of the newer hotel options. Or splurge on the Intercontinental or the Fusion Maia, both of which are stunning resorts directly on the beach.
8. Sao Beach (Bai Sao), Phu Quoc
Sao Beach is an unbelievable, stunning stretch of white sand and bathtub-warm turquoise water on the island of Phu Quoc. If you're looking for a post card beach, this is a high contender for prettiest beach in Vietnam. I've only ranked it in 8th place though, because two aspects take away from its beauty: 1 – it's no secret how pretty this beach is, so tourists are flocking to it. Phu Quoc is one of the most touristy places in Vietnam, and this is one of the most popular beaches on the island. And 2 – at least when we were there, there was a lot of trash washed up on the beach. The owner of our hotel pointed out that this was due to a storm two days before, so hopefully this isn't Sao Beach's normal state.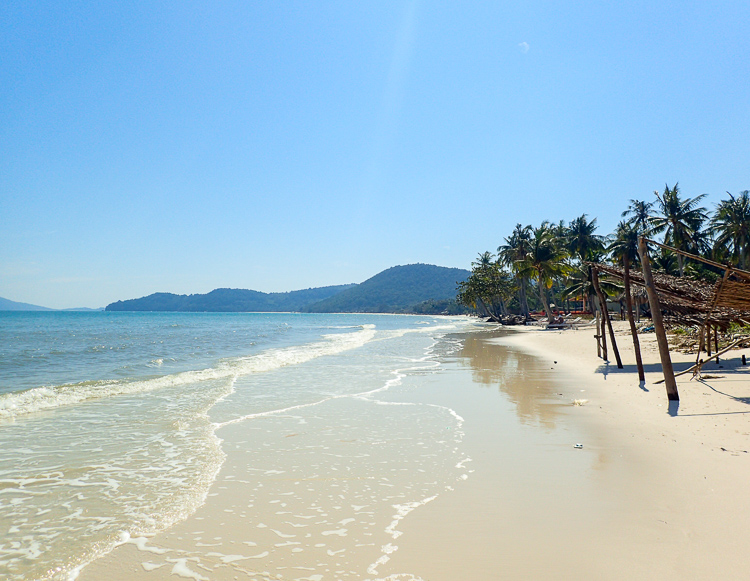 Where to stay at Sao Beach:
There is not much infrastructure near Bai Sao, mainly a few restaurants catering to tourists on the beach and a couple of guest houses. Your better option is to stay at a hotel near the island's main town Duong Dong or at Kiki Coconut Beach (see below). The nearest upscale hotel is the Novotel Phu Quoc Resort.
7. Mui Ne Beach
Mui Ne, similarly to Nha Trang, has a long stretch of beach that is popular with international tourists. Mui Ne Beach is particularly popular with kite surfers and wind surfers due to its strong winds. The main resort stretch is busy, but the crowd it attracts is somewhat more laid back than in Nha Trang. The further north you go (towards Mui Ne fishing village), the more quiet the beach becomes. The area around the fishing village is fantastic for sunset photos. Mui Ne also has some beautiful sand dunes and a shallow "fairy stream" which you can go hiking in.
Where to stay in Mui Ne:
For a budget option, I highly recommend Nhat Quang Guest House. It's directly on the beach, also has a pool, and is just next to the fairy stream. That also means it's a bit of a walk from the tourist center of town, which I consider to be a good thing. If you're looking for luxury, try the Anantara Mui Ne Resort, or, if you're a fan of golf, the Sea Links Beach Resort & Golf.
6. Ong Lang Beach, Phu Quoc Island
Phu Quoc certainly has its share of nice beaches, and Ong Lang Beach does not disappoint. It is much more relaxed than the famous Long Beach just South from it, but provides the same kind of amenities. There are several resorts lining the beach where you can spend the night or just pop in for a drink or dinner. Being on the Western coast of Phu Quoc, this place has beautiful sunsets, and there are plenty of hammocks around for you to lie back and enjoy the view.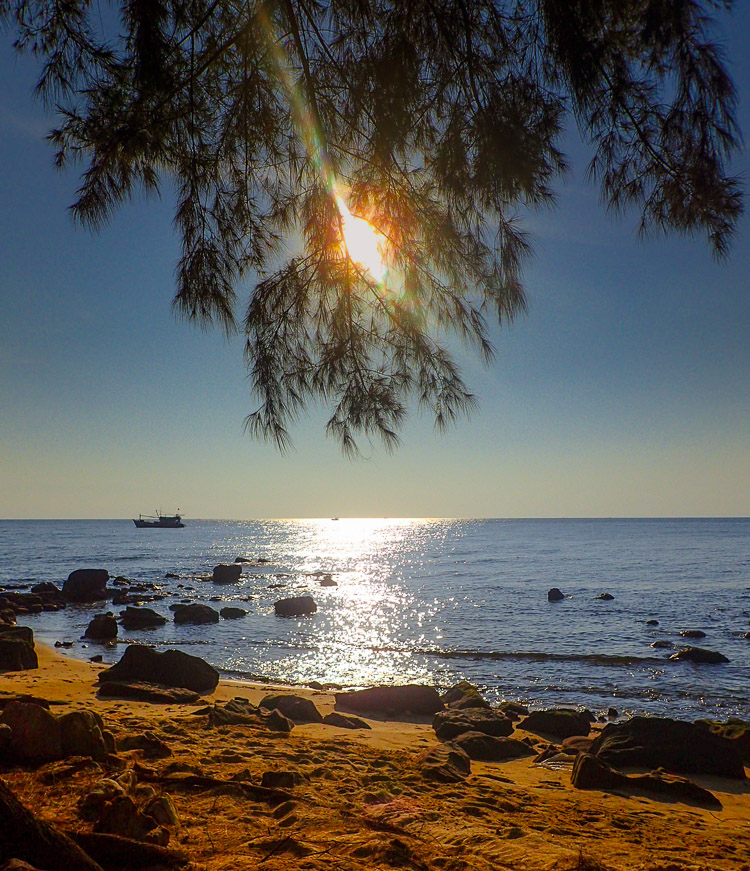 Where to stay at Ong Lang Beach:
We stayed at the Phu Quoc Dragon Hotel, a fairly new hotel that isn't directly on the beach, but consists of a group of wooden bungalows set beautifully in lush tropical gardens. The hotel has a pool and provides free transfers down to the beach in a golf cart, although the distance is easily walkable.
5. Cam Ranh Bay
Not a single beach, but a coastline full of beautiful beaches, bays and stunning views: The area between Nha Trang and Cam Ranh Airport is postcard perfect and most of the time entirely deserted. If you're staying in Nha Trang, rent a scooter and head South. There's a newly built highway right along the coastline, and aside from a few buses and taxis heading to the airport, it's pretty empty.
Where to stay in Cam Ranh Bay:
There are several hotels directly on the beach, however there is little infrastructure around, so you'll most likely end up eating most meals at the hotel or having to take a car or scooter into town. If that doesn't deter you, check out the Fusion Resort for an ultimate luxury experience. Or simply stay in Nha Trang and head to Cam Ranh Bay for a day trip. It's easily accessible by scooter, and there's a new bus line to the airport as of 2016 that will also drop you off near any of the beaches.
4. Ninh Chu Beach, Phan Rang
Ninh Chu Beach and Phan Rang city is my secret tip for kite surfers looking for a more intimate experience than Mui Ne. Ninh Chu Bay Beach Club is set up for kite surfers and has hosted professional kite surfing events, and there are several other kite surfing spots around the area as well.
Even if you're just a bit of a beach bum (like me) and prefer to spend the day lying on the beach and doing nothing, you'll be welcome here with open arms. Further South, the beach near the Saigon Ninh Chu hotel is just as beautiful and you're likely to have the beach to yourself during the day. In the evening, it's a hugely popular spot with locals, and little street food stalls open up on the road leading towards the beach.
Where to stay in Phan Rang:
There are not a lot of hotels to choose from, although more and more guesthouses are opening up, mostly catering to Vietnamese tourists and kite surfers. The only four star hotel in town is the Saigon Ninh Chu Hotel. The hotel itself is somewhat dated, but the pool area is nice and it's directly on the beach. If you've always dreamed of spending a night on the beach, then Ninh Chu Bay Beach Club has tents for rent that you can pitch directly on their beach.
3. Nhat Beach, Con Son Island, Con Dao
The Con Dao archipelago East of mainland Vietnam has to be one of the most beautiful places I've ever seen. Con Son, the main island, is still in the early stages of tourism development, and that is a very good thing. The beaches are all stunning, remote and empty, they are some of the most beautiful beaches in Vietnam, yet few people seem to know this.
Get a room in Con Son town and rent a scooter for a week. It's the only real way to get around. And it's worth it, because while there is a beach in town, the beaches outside of town are far superior. Nhat Beach on the West side of the island is completely remote, there is zero development around. You'll share the beach with thousands of crabs but other than that, you'll likely be alone to enjoy the warm water and the views of surrounding islands.
Where to stay in Con Dao:
If you can afford it, the Six Senses is the best choice on the island. If that's a little above your budget, my recommendation is to skip the mid range resorts and instead find a nice little guest house. You'll be out exploring the island all day anyways and as food options are still a bit limited on the island, you're better off investing the extra cash in the island's restaurants – at the Six Senses, Infiniti Café, Bar200 and Thu Ba are good choices, as is the Banh Xeo restaurant just across the little park from Infiniti Café. We were happy with our room at Hai An hotel, which was walking distance from four restaurants mentioned above and therefore convenient for walking home after a few drinks in the evening!
2. Coconut Beach, Phu Quoc Island
A bungalow on a beach lined with palm trees, not much else around, just pure relaxation. That's Coconut Beach, and the Kiki Coconut Beach Resort. The resort is lead by a Vietnamese-Swiss family who will look after you very well, and provide you with everything you need for a week of "getting away from it all". Lie in one of their great hammocks all day, go out for a bit of snorkelling, or ask them to help you organise a guided hike, fishing trip or simply rent one of their scooters and explore this very remote part of Phu Quoc island. We stayed for a week and didn't want to leave. You won't want to either.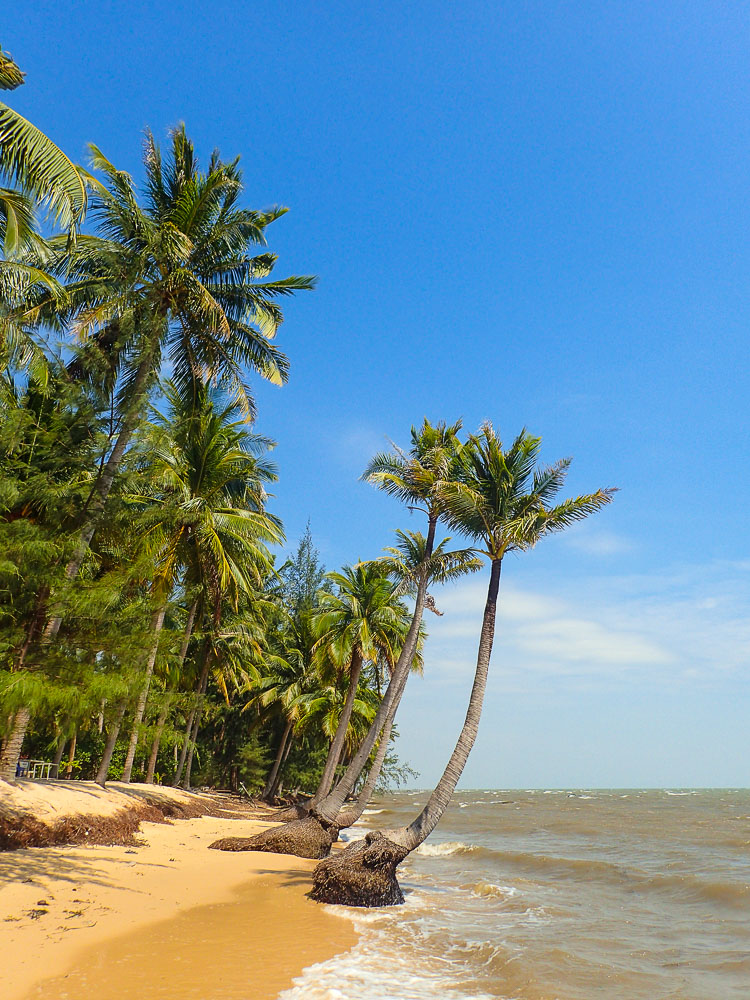 Where to stay at Coconut Beach
There are a couple of small resorts being built in this part of the island, including some more upscale boutique hotels with pools and restaurants, but we were perfectly happy with our little beach bungalow and dinners at George & Kiki's communal family table in the garden. The owner, George, has a nice collection of wines to complete your stay!
1. Dam Trau Beach, Con Son Island, Con Dao
My number one spot for the best beach in Vietnam goes to Dam Trau Beach, also known as "Airport Beach", in Con Dao. Everything about it is just right: Fine golden sand, turquoise water as warm as most people's bath tubs, surrounded by jungle and with two somewhat rustic cafés on the beach that will keep you fed and supply drinks all day long so you never have to leave. Choose whether you want to lie directly on the sand, on a wooden sun lounger or in a hammock in the shade. Or do all of the above, as Dam Trau is still quiet enough that there's no such thing as reserving sun beds. There's enough for everyone.
The beach has its nickname Airport Beach from Con Son airport, the runway of which starts just behind this beach. But as Con Son isn't exactly a busy airport, the three or four propeller planes a day just add a bit of "plane spotting" excitement to your day. Perfection.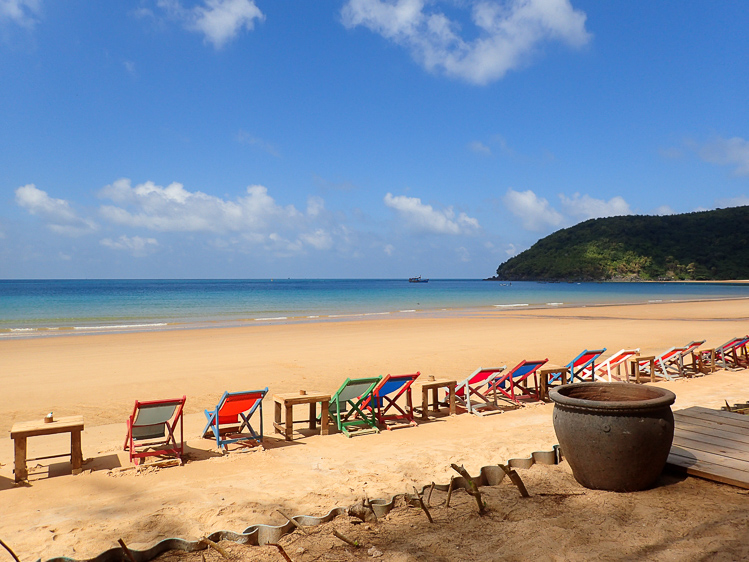 Where to stay for Dam Trau Beach:
See #3 above. Dam Trau is a bit of a drive from Con Son town, but the road is empty if you're not going out at the exact time a plane is about to come in. Even then, it's not exactly what I would call traffic. Your biggest challenge will be making it down the sandy dirt path from the main road to the beach. You may get your scooter stuck in the soft sand or have to break for a family of monkeys to cross the path. It's entirely worth it though.
So, where will your next Vietnam beach holiday take you?