Two weeks ago, we made a last minute decision to head to Phu Quoc island one morning at six a.m. Ferry tickets were sorted quicker than we thought and at 8.45 we were on our way to Phu Quoc – without a place to spend the night. Thanks to Vietnam's surprisingly speedy mobile internet though, we googled places on the way and by the time we'd landed on Phu Quoc, the Phu Quoc Dragon Hotel was booked: a brand new hotel that had only been open for four weeks. Our main criteria was a pool, and considering the last minute search, we weren't hoping for much more than that, but what we found surprised us!
What's special about the Phu Quoc Dragon Hotel?
Walk into the resort and you'll be standing in a lush, colourful garden surrounded by wooden bungalows. Continue walking through the garden and you'll come to the pool, lined by padded wooden sun loungers and umbrellas.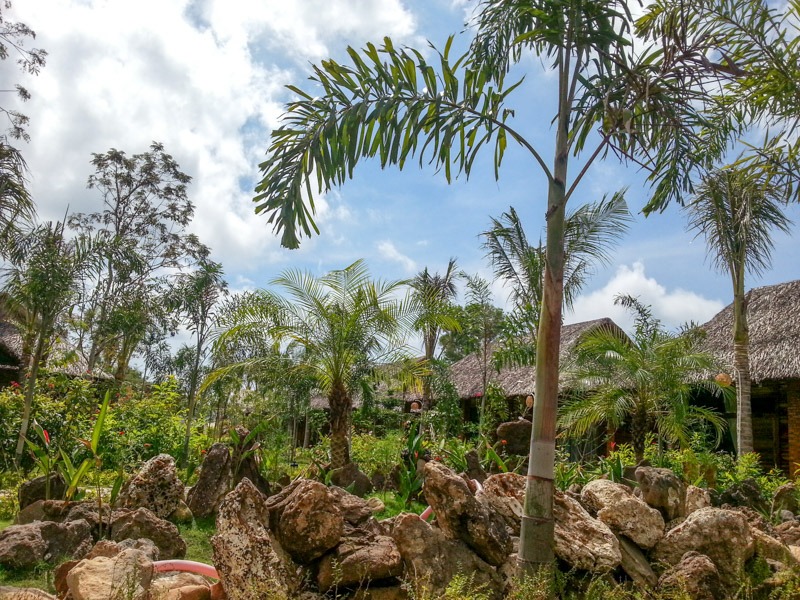 The beautiful hotel gardens
Phu Quoc has plenty of ugly hotels that seem to have been built to make a quick buck without worrying much about aesthetics. The Dragon is different. Here, someone really seems to have put thought into designing the place. From the wooden bungalows, which have all-wooden furniture inside, to the design of the lush gardens, everything looks natural and blends into the native surroundings. It's this balance with nature that creates a soothing environment.
Gigantic larger-than-king-size beds, some of the comfiest hotel beds I've slept in
Everything you could need in a hotel room was readily available
As the hotel is new, everything looks pristine and clean. The pool is fairly big for a small resort, with a deeper area for swimming and a knee-deep area which is perfect to just lounge around and enjoy the sun without getting too hot!
Little details were still being added while we were there, and the spa was still in construction, but as it was behind the restaurant, the construction wasn't visible from the rest of the resort.
They offer free shuttle services to the nearby beach with a swanky little golf cart, as well as twice-daily minibus shuttle service to the nearest town, Duong Dong.
What to eat:
Breakfast at the Phu Quoc Dragon Hotel was great: A buffet with both western and Asian food options, including some sort of different soup every day and ingredients to make Vietnamese style Banh Mi (see my Saigon Food Guide for details). There was also a pancake station and eggs any style cooked to order. The omelettes were delicious!
Vietnamese style breakfast from the buffet
There's a happy hour in the early evening which was great for a pre-dinner drink. Offers seem to change over time, we had a few days of two for one cocktails!
Piña Coladas by the pool!
After the great breakfast, we were a bit disappointed with dinner. There were not a lot of options, and the few things we tried were small portions and lacking a bit of flavour, which is unusual in Vietnam. The hotel had just opened though when we went and my impression was that they're still working on this, so things may definitely improve. Until then though, if you're looking for something different, here are some dinner options within walking distance from the hotel:
Sakura, a family style restaurant, offering a range of basic but good Vietnamese staples and sea food dishes. We quite enjoyed their fish curry and chicken with lemongrass. This place caters to tourists, so you'll have to ask them to spice it up if you're looking for Vietnamese flavours.
Midori, a fairly new lounge style bar & restaurant, is just up the road from the Dragon. They offer table-side barbecue as well as a few traditional Vietnamese dishes. I asked for a local island dish recommendation and ended up with shrimps in an incredibly tasty sweet & sour tamarind sauce. Bonus: this place makes amazing juices, cocktails and mocktails (alcohol free cocktails).
Freshly caught local scallops
Seaside Homestay: This little homestay is just around the corner from the Dragon (a few meters up the road from the hotel, towards the main road, look for the sign pointing down a small side lane). The owner introduced herself to us while we were shopping at a mini mart and invited us to stop by for dinner one night. They served us a beautiful dinner of various local Phu Quoc specialties, including locally caught scallops and pork in fish sauce. Highly recommended, you'll need to book a day in advance, it's easiest to just stop by in person to do so.
What to do around the hotel:
The Phu Quoc Dragon Hotel is close to Ong Lang beach on the West coast of the island and about 10km north of its main town Duong Dong. The area around the hotel is seeing a lot of new construction at the moment, mainly hotels. The construction is nowhere nearly as noisy and visible as in other areas of the island though, and inside the hotel and by the beach it was practically unnoticeable.
Sunset at Ong Lang beach
Ong Lang beach is beautiful and fairly quiet compared to the island's main beaches near Duong Dong. Sunsets are stunning, especially on the beach to the right if you follow the road down from the hotel. There's a bar there right on the beach where you can grab a drink and lie in a hammock or sit on the rocks and let your feet dangle in the water as you watch the sun going down.
The hotel also provides a free shuttle into town. Once you get there, I recommend skipping the touristy night market and instead heading towards the local markets around the bridge over the river, where you can pick up fresh spring rolls and freshly baked goods from a local bakery (amazing pineapple pastries!) or have an authentic Vietnamese drip coffee.
The verdict
Comfy beds by the pool… what more could you want?
We loved our week at the Phu Quoc Dragon Hotel. It was going to be our lazy week as we were recovering from jet lag and illness, and this was the perfect place for what we were looking for. A big breakfast by the pool, a couple of hours on the comfy sun loungers, a dip in the pool, followed by beach walks or excursions to Duong Dong… relaxation set in pretty quickly. My main recommendation for improvement? Play less Celine Dion by the pool… nobody wants to hear My Heart Will Go On five times a day. 😉