If both Conde Nast and Travel and Leisure call a place the "most beautiful island in the world", you simply have to check it out. Meet Palawan, an island region in the Philippines. I was in the country for TBEX, the world's largest travel blogger conference. And I just couldn't resist taking a side trip for some Palawan island hopping, to see if the rumours about its beauty were true. Spoiler alert: Totally, absolutely and unequivocally true.
Palawan is huge, and with my three days that I had available, there was no way I could check it all out, I had to pick a small area and make a decision. I picked Dimakya Island as my base. Dimakya is part of the Coron municipality in Northern Palawan. It was perfect for me, because it's fairly easily accessible from Manila. A short 45min flight to Busuanga airport, and a transfer by van and boat of about an hour and 15 minutes. Compared to other destinations in the area, that's pretty convenient. Also, Busuanga airport has more flights than El Nido, for example, which gave me more options and more affordable flights.
Also, Dimakya Island is home to Club Paradise Palawan, a great resort that felt just right. It's luxurious and had all the amenities I was looking for, and it's the only hotel on Dimakya, this is a private island! I'd never been to a private island so I couldn't wait. I'll tell you more about Club Paradise in an upcoming hotel review. For now, I want to show you the beauty of Dimakya Island and how I kept myself entertained there for three days.
Meet Dimakya Island
Dimakya island's gorgeous beach
View from the boat sailing up to Dimakya Island
Dimakya island is gorgeous. White sand beaches, gentle waves, and stunning views of the surrounding islands. This is the perfect place to relax and forget about the rest of the world. The water is clear and warm, and I managed to resist for about 10 minutes before I jumped right in.
I came for the beaches, so I loved hanging out on Dimakya's sunset beach, a long white beach with plenty of trees for shade, a few sun loungers and a little beach bar that offers drinks all day long. The bar also offers plenty of snorkelling equipment, so I grabbed a mask, hoping to see a few fish. When I asked the bar man where I should go for good snorkelling, he just pointed straight at the beach. Right there. I jumped in, not hoping for much, right on a resort beach.
Check out the smiling fish!
Suddenly, I was surrounded by an entire school of fish…
Look at the guy in the top picture, it's almost as if he's posing for the camera! I may have had a mini panic attack being surrounded by so many fish, but I have to admit it was pretty cool.
Club Paradise also offers guided snorkelling tours around the island and to nearby reefs. I didn't have time to go this time (one of the many reasons I'll have to return!), but my friends Bret and Mary from Green Global Travel went diving and snorkelling and they were absolutely raving about the dugongs and turtles they saw.
If you prefer to be safely above water, you'll be happy to know that Club Palawan also has kayaks for use. The water is so clear you could probably go looking for sea life from above!
Dimakya Island Wildlife
I'd been looking forward to the beaches and the water, but the island was just as amazing inland. Dimakya island has been left fairly natural, so behind the hotel, there's essentially a small jungle. It's home to tons of native animals, including a big group of fruit bats that hang out on the island all day long and fly to the mainland to feed at night. They're amazing animals to watch!
And last but not least, Dimakya is home to a group of monitor lizards. After years of traveling to tropical destinations, I'm kind of cool with geckos of up to say… 10cm?… hanging out in the hotel or even room I'm staying in. These guys are a whole other level though. They're dinosaurs to me, really. Sadly, they're also masters in disguise and well camouflaged, so my little travel camera had a bit of trouble capturing them… but this will give you an idea of what I was dealing with. The largest one was about 6 feet long… which is more than my height.
The monitor lizard I nicknamed dinosaur.
Bats everywhere! I thought they'd freak me out, but they were actually really cool.
Palawan Island Hopping
Now, whilst Dimakya is a gorgeous place, one of the reasons I went was to experience the classic filipino island hopping, in an outrigger boat. Club Paradise offers a range of tours to nearby islands for sight seeing, sun bathing and snorkelling. They even have a safari tour to Calauit, an island that's a wildlife sanctuary. With my limited time, and the somewhat sketchy weather (I was here during rainy season), I went for a simple Palawan Island Hopping tour to nearby islands for some snorkelling and beach time.
Our boat, a classic filipino outrigger boat
Anchor at the ready and off we go!
Coron is full of these kinds of hills. They remind me a bit of the famous chocolate hills in Bohol.
One of our crew, getting ready to throw the anchor
Turquoise waters and green hills – that's Palawan Island Hopping.
Dimalanta Island
Dimalanta island is a tiny uninhabited island north of Busuanga island. There's so much coral all around it that we actually didn't go all the way up to the beach. Instead, we anchored a bit further out and snorkeled from there. The water here is so clear you barely need a snorkel mask. Some of the people on my boat preferred to just watch from above, there was plenty to see right from the boat.
My snorkel gear is ready! Notice how you can see all the way to the bottom of the ocean?
Impressions from snorkeling
Snorkeling at Dimalanta
We didn't see a lot of fish, but the coral is very alive and healthy!
Hanging out on the boat in front of Dimalanta island
Diatoy Island
Diatoy island was my highlight of the day. As most of my friends know, one of my absolute dream destinations are the Maldives. This place isn't far off! Mega clear water, white sand, a few random palm trees, and great snorkeling. While the rest of my group preferred to hang out on the beach, one of our guides enthusiastically showed me the snorkeling in the area. I was glad I brought fins, because we went for a long swim! Club Paradise provides them for free, but you do have to request them before you set off on your island hopping tour.
It was a bit scary at first, as the water is very shallow and the place is very alive. We snorkeled just above a field of green, having to make sure we stayed right on the surface in order not to touch anything. After a minute of swimming out, we got to a wall that just drops down. This made for very interesting snorkeling – this place must be awesome for diving! Also: we found Nemo, who certainly found himself an awesome place to hang out.
Posing, trying to look cool…
…how I actually felt at Diatoy island!
My Palawan island hopping highlight. Isn't Diatoy absolutely gorgeous?
Outrigger boats and turquoise waters. That's the Philippines.
The seagrass at Diatoy, and the tiny space we navigated through in order not to touch anything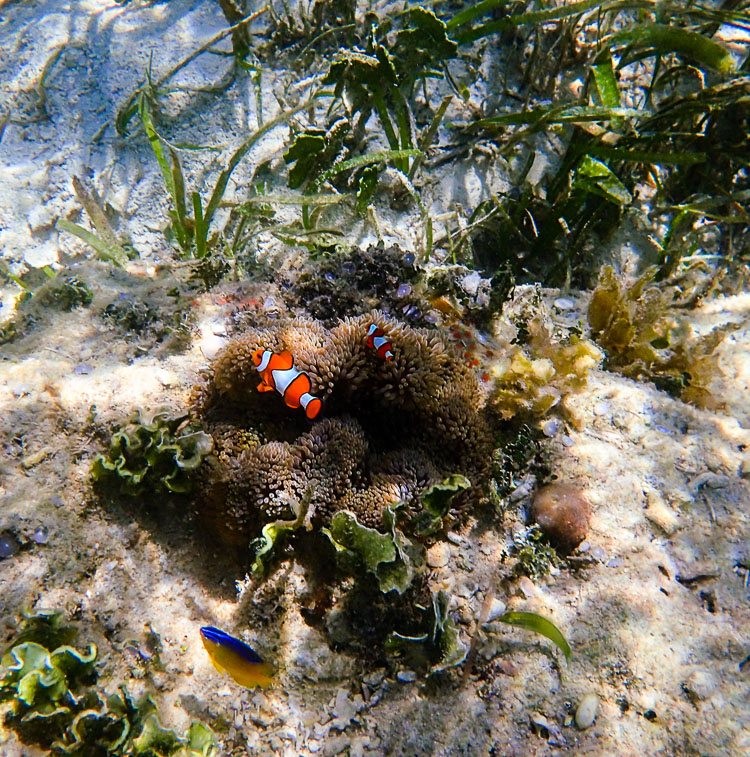 Finding Nemo. Found Nemo.
Things I have yet to try in Coron
Sadly I only had one full day and two half days to spend in Coron / Palawan. There are plenty of things I still want to try – especially the Coron island tour, which includes a visit to the insane Cayangan Lake and the Maquinit Hot Spring. Or the above mentioned Safari tour, which sounds very unique. Also – I have yet to see a Dugong!
So, rest assured, I'll be going back to Dimakya island for more island hopping and snorkeling adventures.

Note: Club Paradise generously hosted me during my time in Palawan and invited me to join their island hopping tour. All opinions are my own and I will only recommend hotels and activities I truly enjoy. This place is truly awesome.