Traveling to Siem Reap? Check out my Guide to Angkor Wat as well!
We took two big bus trips in Cambodia: Siem Reap to Phnom Penh on a Mekong Express bus and Phnom Penh to Sihanoukville on a Giant Ibis bus. Here's my Mekong Express and Giant Ibis Bus Review: how they compare, and how to book each of them. Spoiler: My vote goes to Giant Ibis.
Mekong Express Buss Review
Until the arrival of Giant Ibis a few years ago, Mekong Express was considered by most foreigners as the best bus company in Cambodia.  And compared to many of the other companies out there, it does have a few things going for it: they sell tickets with numbered seats, and you're guaranteed a whole seat to yourself (yes, in Cambodia this is a little luxury that not every bus offers, especially not the minibuses). The Mekong Express bus will also take you directly to your destination city rather than making random stops in between to pick up additional passengers or packages.
Traveling to Cambodia? Check out my 3 week Cambodia itinerary for ideas on where to go and what to do!
That being said, we still weren't very impressed. Our bus was old – ancient,  even – and considering the state of the road from Siem Reap to Phnom Penh, that made the trip a bit more dangerous than it needed to be.  I also killed about fifteen mosquitoes on this trip, and I'm guessing everyone else on this bus killed their fair share too, so you might want to bring some mosquito spray to cover yourself in to avoid being bitten.
The state of the road from Siem Reap to Phnom Penh
As of January 2014, the promised paved road all the way to the capital is not really existent. There's a ton of road work going on, and more often than not,  we were driving on dirt paths next to construction work. How dangerous this road is was also proven by the accidents we saw on our way, including a few minor incidents of cars skidding off the road, a large overpacked truck lying on its side with the load spilled over the entire street and the driver cabin completely destroyed, and a car that had flipped, lying in a ditch upside down. What scared me most about both of those accidents was that there was no ambulances or police anywhere to be seen. If you do get into an accident here, help might be a long way away.
Our driver was ok, while he did spend more time overtaking other vehicles than staying on his side of the road, he did do a good job to avoid the most dangerous parts of the road and I definitely had more confidence in him than in his rusty old bus.
Mekong Express advertised with little luxuries like a breakfast snack, a toilet on the bus and free wifi. The snack was okay, a mini pizza of some sort with a ton of onions on it and a muffin that was actually quite tasty (when it gets to cakes & stuff like that, I'll eat almost anything though). The toilet was indeed there and working,  however, considering the extremely bumpy trip, whatever was in that toilet was splashing all over the place. Not really Mekong Express' fault, but you wouldn't want to use the toilet on this bus unless you had a real emergency. And as for the wifi, I tried that about ten times and it never once worked, so don't get your hopes up on that one. Your entertainment will be limited to ancient reruns of Mr. Bean and Cambodian Karaoke videos.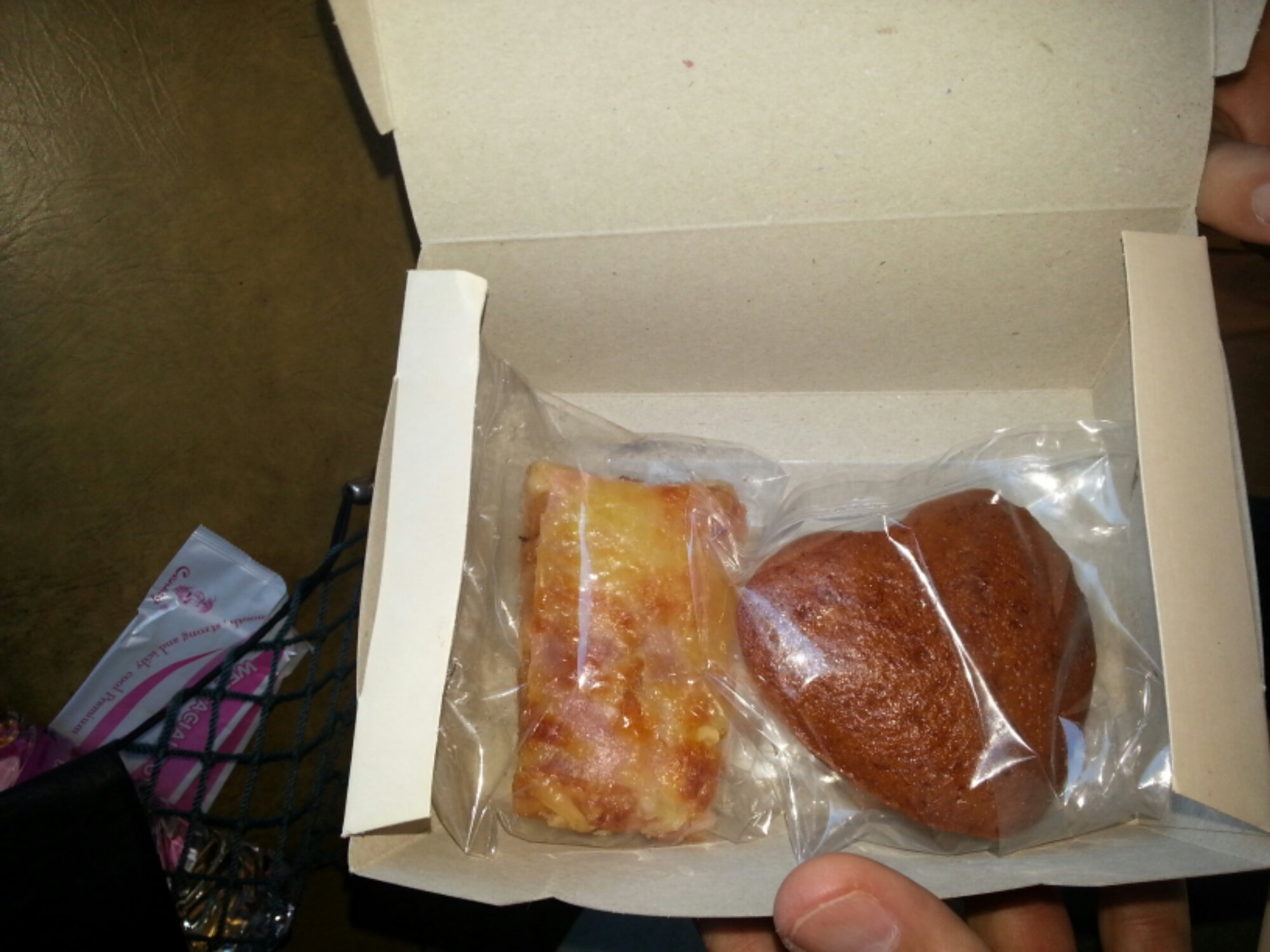 Giant Ibis Bus Review: The newer option for traveling through Cambodia
Being a bit disappointed with Mekong Express, we tried Giant Ibis for our trip from Phnom Penh to Sihanoukville a few days later. Their buses are actually as new and nice as promised on their website, ours was a small 25 seater with nice clean seats and comfortable, with air conditioning at a comfortable level (not your traditional ice box that so many other buses here seem to opt for). No toilet on this bus, but they all stop on the way for a lunch & bathroom break. The flatscreen tv played English movies (Ice Age, Night in the Museum 2, pretty family friendly stuff), however the sound was a bit low to really watch. I've heard that their bigger buses have individual outlets on each seat so you can plug in your headphones for the movies, but ours didn't.
The promised wifi on Giant Ibis was only marginally better than that on the Mekong Express, out of twelve times I tried it, it worked once – at the bus stop in Phnom Penh before departure. I've read that they just turn their 3g signal into a hotspot. With twenty to fifty people on a bus all trying to connect at the same time, it's hard to imagine that would ever work in remote areas with generally bad mobile coverage. Your best bet,  regardless of which company you go with,  is probably to assume there won't be wifi and plan accordingly.
Another piece of advice that goes for both bus companies, make sure your luggage makes it onto the bus, and when you arrive at your destination, try to get off the bus early to be there when it's taken out of the luggage compartment. Mekong Express gave us luggage tags, but nobody checked those as people were retrieving their bags, and Giant Ibis did not give us luggage tags at all (from what I heard they do give them if you're on one of their big busses, but no guarantee on that).
Giant Ibis seems to be a bit more expensive than Mekong Express, but the difference isn't much: Mekong Express was $13 from Siem Reap to Phnom Penh, Giant Ibis would have been $15 for that same trip. Conclusion – if you can go with Giant Ibis, invest the extra $2 for your comfort and safety.
How to get bus tickets for Giant Ibis and Mekong Express busses
From your hotel: Your guest house or hotel will usually be able to book you tickets for either one of these companies. This is definitely the most convenient option. However, keep in mind that they may go through a travel agency and you may be paying a fee to both, increasing the price of your trip. Also, the guy sitting next to us on the Mekong Express bus from Siem Reap to Phnom Penh had requested Giant Ibis tickets from his hotel and ended up being booked onto a Mekong Express bus, so be careful and make sure to check your ticket and confirm it's what you asked for.
From the bus company's booking office: Both companies also have booking offices in most big cities, this has become our preferred option for bus travel now since you're getting the tickets directly from the source without any middle men, avoiding extra charges as well as confusion and the risk of being rebooked on other buses. Ask for a free hotel pickup, if your hotel isn't too far from their office or bus stop this is often included!
The Giant Ibis office in Phnom Penh is at 3E0, Road 106 (as of January 2014). See their website for other office locations.
The Mekong Express office in Phnom Penh is at 2020, Road 5 (according to their website). See their website for other office locations.
Online: Probably the most convenient option, both Giant Ibis and Mekong Express offer online booking, I haven't tried this option, keep in mind you may have to print out the ticket!
More on Cambodia
Check out the Cambodia archives for our Cambodian adventures, including a full guide to Angkor Wat and off the beaten track options like the Kep crab market!