Before I set out on my three month South East Asia trip, I read loads of packing lists by other bloggers. I'd done plenty of traveling before, but usually either short trips or staying in one place for several months. Traveling for three months while moving to a new place every few days was new to me, and as a stereotypical German, I wanted to be well prepared. Looking back now, there were four things I traveled with that weren't on any of the lists I looked at that I loved having with me:
A tennis ball
Yup, a tennis ball. When I've been lugging a bag around a city, or have been squished into a Vietnamese bus for eight hours, my back will hurt. And a tennis ball is the easiest way to sort out a tight back. Stand with your back against the wall and put the tennis ball between your back and the wall. Lean against it and move around to massage out the tight spots. Sounds weird, but it works. Plus, a tennis ball is an easy way to entertain local kids or even dogs (at your own risk…).
Ridiculously big headphones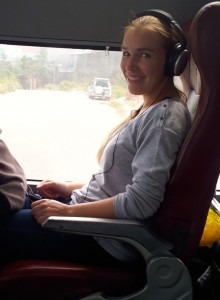 I contemplated this one for a long time, and it seemed kind of crazy to lug aroung big over ear headphones, but I hate the more backpacker-friendly in ear headphones, and I knew I'd be spending lots of time on planes, trains and cars, so in the end I did pack my big Bose QuietComfort headphones. Major advantage: They're noise cancelling.
A big travel towel
I've actually seen this on some lists, but didn't think I needed it as we were staying in mid scale hotels that all provided towels. And I was right, I never needed it as a towel. This microfiber towel came in very handy though as travel blanket in cold hotel rooms or on our train journey through Vietnam, or as additional pillow at night.
A can of Raid
If you're traveling to an area where diseases like Malaria or Dengue Fever are an issue and don't want to cover your entire body in bug repellent 24/7, get a can of Raid. I bought this on the road, and replaced as needed. Not every hotel room has a mosquito net, and you'll often want to just sit and chill in your room before actually going to bed. So get a can of Raid, and spray your room.
A pack of ziplock bags
Again, something I bought cheaply on the road because for some reason they're outrageously expensive in both Germany and Spain. They came in very handy for a number of things, from packing food for lunch on the beach to protecting cell phones and cameras from water damage to separating wet clothes from the rest of my luggage.
Want a full packing list? Here are some great ones by other travellers:
What to Pack by Travel Independent
The Essential Backpacking Packing List by Worldly Nomads
The Ultimate Packing List for Travel by Backpacking Spirit
Ultimate Packing List for Long Term Travel by Five Dollar Traveller
In my Backpack: Packing for South East Asia by Dangerous Business
What not so common items do you travel with? Share your packing list in the comments and I'll add the link to the list here!
Disclaimer: Links to Amazon are Affiliate links, and if you buy something, I'll receive a small commission. Your price will not be affected by this in any way.