Athens. What a city. Full of history, full of magic. Full of FOOD. Traditional greek food, with heavy middle Eastern influences, is all over the city. There are so many things to do in Athens for foodies, this city is a foodie heaven! From two-euro-Souvlaki street food to Michelin starred restaurants, Athens has it all. Here are some impressions from my recent trip to Athens and tips on where to go for a quick bite, some market browsing or a sit down dinner.
Things to Do in Athens: Foodie Impressions from Greece
Greek Yoghurt and Pastries for Breakfast
Breakfast! Or dessert – or both. Athenians make great sweet treats. Pictured here: Greek yoghurt with honey and nuts, Galactoboureko (custard pie) and Loukoumades (greek doughnuts), also covered in honey. The greek yoghurt, made from sheep milk in this case, is a lot creamier than the "standard" yoghurt you can get elsewhere, and is a great breakfast together with the nuts. If you go a bit easier on the honey, it's even healthy! The same can't really be said for the doughnuts and the custard pie, but they taste so good you won't mind the extra calories.
Where to try it: Stani Dairy Bar, M. Kotopouli 10, near Omonia Metro station. Stani is an old, traditional dairy patisserie that's been led by the same family since the 1930s and sticks to old, traditional recipes for its dishes. You can have a sit down breakfast here or buy their yoghurt or pastries to take away.
A Stroll Around the Central Market
Looking for some photo opportunities or planning on buying greek spices, fruits and vegetables? If raw produce is your thing, the central market, or Dimotiki Agora as it's called in Greek, is a nice place to roam around during the day. The market was built by the city of Athens in the 19th century in an effort to move the city's ancient market away from the foothills of the Acropolis and into a modern building within the city. Vendors were reluctant about moving to the new market location, but had no choice when their stalls in the old market location burned down in a large fire in August of 1884 and they had nowhere else to go. Today, over 300 vendors sell seafood and fish, meats, and fruit and vegetables here.
Where to find it: Central market on Athinais street, between Evripidou and Sofokleous.
Middle Eastern Snack: Lahmacun and Scented Tea at Feyrouz

If you're looking for a snack and want something other than the usual souvlaki, go to Feyrouz. This little corner bakery is new on the Athens food trail, serves up various Middle Eastern flatbreads with creative toppings and fillings and is run by a family that's incredibly passionate about good food. Everything here, including the bread for the lahmacuns, peinirli and other snacks is hand made right on premises by the mother of the family. This is also a good place for the vegetarians amongst you. I had a vegetarian spicy spinach peinirli with whole wheat bread and it was incredibly tasty!
I went to Feyrouz as part of a food tour run by Big Olive, and owner Andreas welcomed us all with these spiced teas to explain the menu and the family's philosophy. Have a tea with your snack, they go really well together!
Where to find it: Karori 23 (corner of Aiolou).
Greek Fromagerie & Charcuterie
Having lived in Spain for six years, I've become accustomed to the philosophy of tapas: Eating my way through plates and plates of different small dishes, preferably shared with friends, while having a chat and indulging in some people watching. It's perfect for someone like me who is incapable of deciding on one dish. Athens, it turns out, has lots of tapas friendly places as well. Greeks call the little plates meze, and they're served as snacks with drinks or at the beginning of a meal. Some great places to try meze are charcuteries and fromageries, selling meats and cheeses to locals who just come here to do their shopping, but also have a bar and a few tables around the place for you to sit down and enjoy small plates of meats, cheeses, stuffed wine leaves (my favorite!) and other snacks. Some of them even offer full menus of proper sit down dinners, although I have no idea why you'd commit to that if you can do tapas. Maybe I have food commitment issues.

Bresaola, delicate air-dried salted beef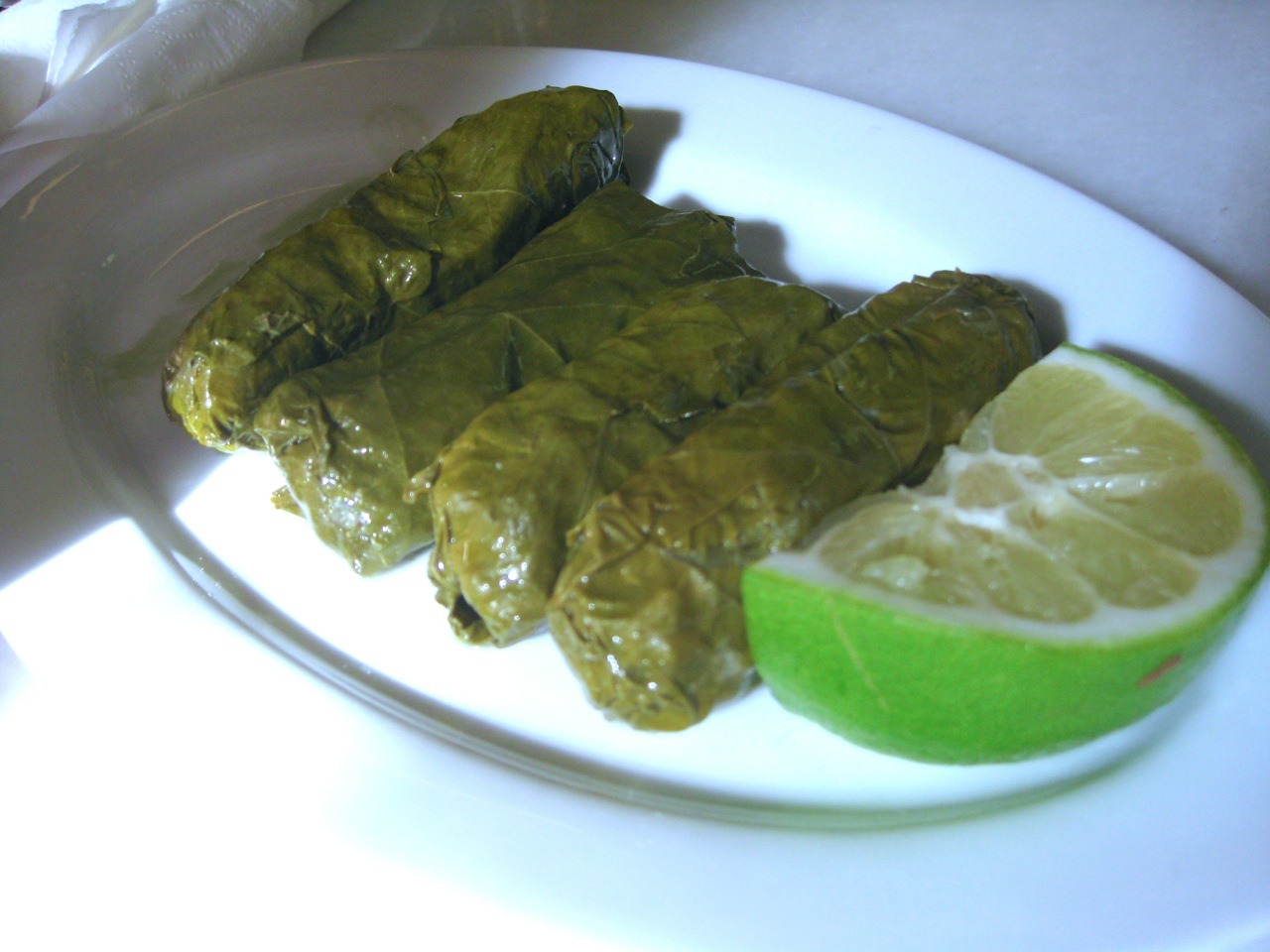 Dolmadakia, one of the greatest Greek food inventions: Grapevine leaves stuffed with rice and herbs, typically dill, parsley and mint, served with a yoghurt dip and a touch of lemon
Where to find it:Try Ta Karamanlidika tou Fani, Sokratous 1 & Evripidou 52 (it's one place, with two addresses as it's on the corner of Sokratous and Evripidou). If it's packed and you can't get a spot, you can also try Miran across the street, Evripidou 45. Look up! This place has a beautiful vertical garden on the outside walls of the building.
A touristy lunch: Greek salad and Moussaka
Yes, it's touristy, but no visit to Athens would be complete without a lunch or dinner on one of the many terraces in the city center serving up fare like Greek salad, moussaka, stuffed grapevine leaves, souvlaki and co., preferably with a glass of Greek red wine and a bit of traditional Greek music playing in the background.

Moussaka: Layers of eggplant and ground meat in tomato sauce, topped with bechamel sauce and baked in the oven.
Where to find it:Right at the bottom of the Acropolis, outside the Acropolis metro station you'll find Gods' Restaurant, at Makrigianni 23-27. It's definitely a bit of a tourist trap, but the Moussaka pictured above was pretty good and if you're sightseeing in the area, this is not a bad lunch spot!
A little bit of history and tradition at the Museum of Greek Gastronomy
If you want to learn about the history and traditions of Greek cuisine, the Museum of Greek Gastronomy is a good place to start. The museum itself is quite small, and you can tour it in about 15min, but the museum also includes a restaurant specializing in Greek food prepared the traditional way, a beautiful hidden courtyard serving coffee and Greek spoon sweets and occasional activities like cooking classes. Their website is in Greek only at the moment, so probably best to contact them via email or their web form to enquire about activities happening while you're in town.
I had a traditional Greek coffee at the Museum of Greek Gastronomy, with rose flavored water, accompanied by a traditional "Spoon Sweet", a fruit or vegetable preserved in sirup and spices. In this case it was actually a sweet eggplant filled with almonds and spices. A bit too Christmassy for my taste, but the girl next to me ate three of them so it's just a matter of different tastes!
Where to find it: Museum of Greek Gastronomy, Agiou Dimitriou 13.
Contemporary Greek Dinner with Views
If you're looking to go beyond street food, have had all the moussaka you can handle and want a bit of creative contemporary cuisine but still eat Greek food, Kuzina is a great place to go. It's a lovely bistro with beautiful decor on the interior and views of the Acropolis from the roof terrace. The menu can probably be described as Greek fusion, including traditional dishes like lamb shank with mint and garlic as well as steamed fish with coriander pesto and a soy and sesame vinaigrette. Pictured above are Kuzina's zucchini balls and fatoush salad.
From the more traditional side of Kuzina's menu: Soutzoukakia, greek meatballs with sumac, pita bread and yoghurt mint sauce. After a long day at the TBEX conference, this was an appetizer that really hit the spot!
Kuzina's shank of lamb with caponata and mint sauce with roasted garlic. Pure perfection.
So this is it. My Athens food tips. If you've been to any of these places, let me know what you think, and if you have any other tips to share, please post in the comments – particularly for street snacks like Souvlaki, as I have yet to find great Souvlaki in Athens! I'm confident it's there, but the places I came across were just too touristy and not that impressive. So if you're in the know, share the love.
I visited many of these places as part of a food tour by Big Olive, which was part of my TBEX trip to Athens. Thanks to TBEX, the city of Athens and Big Olive for this great tour and helping me discover some amazing places! Next time you're in Athens, take a look at Big Olive, they have various tour options, not just for foodies.