A lot of the more upscale hotels in Luang Prabang advertise their views. So when a hotel calls itself the Luang Prabang View Hotel, it's promising a lot. Does it deliver?
We spent two days at this hotel in Luang Prabang this March to answer that question.
The drive there was an indication of what was to come: the road up to the hotel is steep. So you'll be pleased to know they offer a free shuttle service into town and back all day long!
Check-in was easy, we were welcomed in their stylish open air lobby by an entire team of people – one person completing check-in formalities, while a second person was serving us a welcome drink and someone else was loading our bags onto one of their golf carts. Everything was sorted before we could even finish our drink. Once we were done with our drinks, we were whisked away to our room on the other side of the property.
Our welcome drink at the Luang Prabang View Hotel
Our Room
The hotel is set on top of a hill and built on multiple levels. Rooms are set in small one or two storey buildings, so it feels more like a village than a big hotel. And thanks to the way they placed buildings around the top of the hill on multiple levels, every room has a view of the surrounding area.
Our room was a Terrace King Room. Set in a small one storey bungalow housing just one other room, it was a quiet haven away from the hustle and bustle of Luang Prabang. We had over 70sqm to ourselves, with our room featuring a king size bed, a Lao style day bed, a working desk (which definitely came in handy for my work on the road!) and a large bathroom with a bathtub.
But the highlight was no doubt our large private terrace with views of the city and the mountains in the background, and a massive day bed to enjoy the view from. A dining table for two and some plants completed the set up.
Can't beat that view. Yes, that terrace was just for us.
View from our room with its massive floor to ceiling windows: it's kind of hard to focus on anything on TV with that view in the background.
Bed with a view, minibar with a view: anywhere you were in the room, you could see Luang Prabang…
…and I mean anywhere! Even the bathtub had views. Nice little detail: Check out the padded head rest on the right side of the tub! I also loved the baskets that held the towels, bringing Lao style into the bathroom.
Evening turndown treats! Some mandarines and poppyseed-banana cake wrapped in banana leaves. A nice idea and different from the usual chocolates, with the added bonus that all of this could be packed up easily to eat on the go. We took our turndown treats on a boat trip the next day.
The Restaurant
If everything in the hotel has a view, then the restaurant needs to have a killer view too. And Somview Restaurant, Luang Prabang View's main restaurant, didn't disappoint. The restaurant itself had a large dining room that could easily accommodate groups with a balcony surrounding it, providing covered outdoor dining space with amazing views. As a bonus, there was also a dinner set-up by the pool, at the very top of the hotel, with unbeatable sunset views.
In the morning, Somview Restaurant serves as a buffet breakfast restaurant for all guests with a large selection of both hot and cold dishes and a range of different cuisines, including Asian and Western style breakfast options. Standouts for me were the nice selection of cheeses and the French toast with fresh fruit salad. It's the only time I saw French toast on a breakfast buffet in three months of traveling around Asia so it was a welcome change to the usual eggs & toast.
In the evening, Somview Restaurant's specialty are high quality imported steaks and there is a big selection of wines to go with it.
Plenty of space to accommodate larger dining parties, and floor to ceiling windows to show off the view
The restaurant balcony with a view of misty mountain tops
Dinner setup inside the restaurant, in classic white with traditional lao textiles providing colorful accents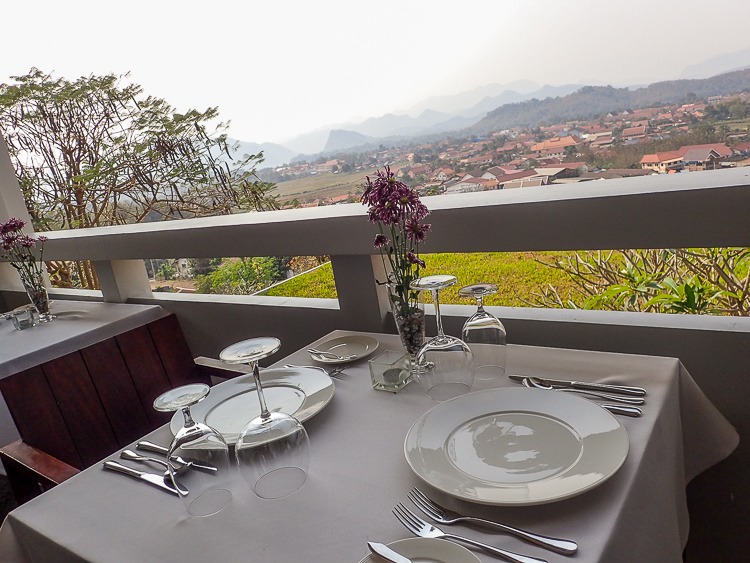 Mountain views as far as the eye can see
Great way to start the day. Coffee with a view!
The classic hotel buffet breakfast, but a bit more dressed up
My go-to dish at the Luang Prabang View Hotel: French toast drizzled with syrup and fresh fruit salad… and a mini donut for dessert.
The Pool
By now you're probably sick of hearing about the views, but as far as the views go, I've left the best for last! The hotel's pool is at the very top of the hill above the rest of the resort, and therefore boasts 360° views.
The pool itself is pretty big for a hotel pool, and is surrounded by sun loungers and lao style day beds. Thankfully, there are also plenty of umbrellas. In Lao temperatures, shade is essential.
The pool area was most stunning at sunset, and if you time your arrival right, you can even sip on a happy hour cocktail while you watch the sun set over the mountains.
Hello, sunset dinner by the pool!
Plenty of sun loungers, plenty of shade: everything you need to recover from a day of sight seeing in Luang Prabang
Simple sun beds with the iconic triangle pillows: for your afternoon nap, or your morning yoga session.
Plenty of choice: choose a lounger with the perfect angle to watch sunrise or sunset.
Take the plunge! Since most guests are out for sight seeing, consider coming back for a refreshing lunch time swim and have the pool to yourself.
Guess what? It's an infinity pool!
Luang Prabang View Hotel's Other Services
Aside from the views, there are a few other points you might be interested in:
The hotel also houses a spa, offering both "standard" and some local Laotian treatment options. They have a choice of private rooms and a larger room with various comfortable chairs where you can indulge in foot massages, pedicures and the like as a group or couple.
And if walking around Luang Prabang all day hasn't tired you out, you can hit the hotel gym which – no surprise here! – has all its machines facing a large window so you can continue enjoying the view while you work off that French toast (confession: I didn't. I just ate and then sat by the pool.)
Lastly, we found the staff to be really helpful with making arrangements and planning our day. There was a hotel shuttle on a more or less hourly schedule throughout the day to take guests into town and pick them up again, right by the night market. We also asked for help with booking a lunch cruise and the kind lady at the tour desk made a booking for us without charging any commission (which is often the case elsewhere in Laos).
Dark wood, natural materials: a relaxing spa room
Burn your extra energy from the French toast and donuts
The verdict on Luang Prabang View Hotel
We loved the views. The hotel delivers 100% on that promise, and it's a nice place to rest after a long day of sightseeing. My favorite place was the pool area, which was surprisingly quiet considering the restaurant was packed in the morning.
Our room was very spacious and taking a bath with a view was awesome as well. There are hotels in Luang Prabang that provide a higher level of service, more personalised perhaps, but there is also a large difference in price. So if you're looking for a nice room and nice pool area at mid-range prices, the Luang Prabang View Hotel is a great option!
We enjoyed our stay as guests of the Luang Prabang View Hotel. All opinions are my own and I will only recommend hotels and activities I truly enjoy.