Despite all the horror stories of backpackers partying non stop and indulging in drunk river tubing, Vang Vieng is actually a really pretty place. And I'm not talking about the downtown party streets – they truly are lined with cheap bars showing reruns of Friends all day long. But the area surrounding Vang Vieng – the river, the mountains, the countryside – is gorgeous. And one of the best ways to see the area is by going kayaking in Vang Vieng.
Vang Vieng is famous for tubing. Every afternoon, the crowds take tuk tuks out of town and tube down the Nam Song river. They stop at a bar here and there, listen to awful techno music while getting drunk (and high) on the way. The town is working hard to clean up its act, many of the bars have been shut down and it's not as crazy anymore as it used to be. You CAN have a good time river tubing even if you're not a twenty-something backpacker looking for a party. However, if you really want to relax and enjoy the river, my personal recommendation is to try kayaking instead (or hey, do kayaking in addition to tubing!).
Go kayaking in the morning
To tell you the truth, we mainly went in the morning because that's the time our lovely guest house host suggested. But we soon realised it was a great choice: Firstly, it wasn't as unbelievably hot yet as it gets in the afternoon. That's a good thing, even when you're in or on the water. Secondly, we had the river almost to ourselves. Most of the way, we were the only people on the river. We just came across a few locals taking a bath in the river or searching for river weed (more on that later). Only on the last stretch, almost back in town, did we come across a few early tubing people. Lastly – and this is important – most of the bars were not open yet, which meant the dreaded techno music was very limited. The majority of the time, we enjoyed the river in silence. Nature as it should be.
Why kayaking is better than tubing
What I liked about kayaking in Vang Vieng was that being in a kayak and having paddles gave us a bit of control. We had gone tubing in Kasi the week before, and three of us completely wiped out in a current that we just didn't see early enough. I wasn't happy. In the kayak, I felt more in control and safer. The paddles also allowed us a bit more speed where the current was slow, which was good, as it was dry season. We did see a few tubers getting stuck on the way and having to get out and swim or walk. And of course, it was also a bit of a workout – though I must admit I took full advantage of the fact that we shared a double kayak. I spent almost more time taking photos and admiring the scenery than I did paddling. But that's what I have a strong partner for, right?
Impressions from our day of kayaking in Vang Vieng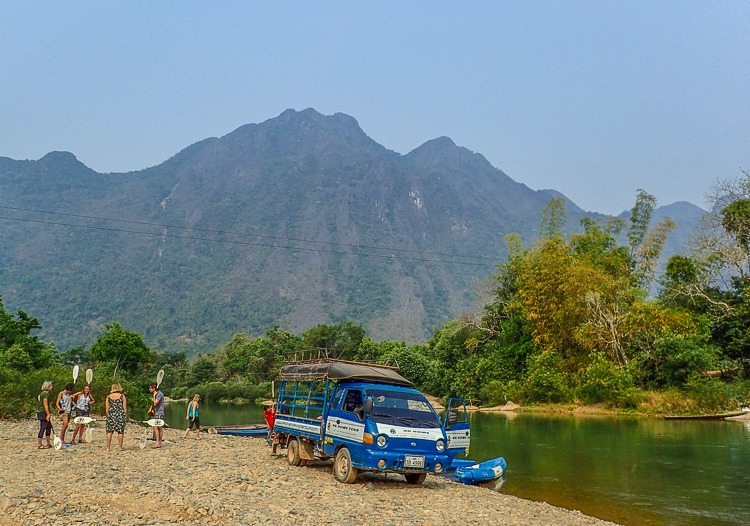 The company we went with picked us up at our guest house and drove our group to the outskirts of town with all our equipment
This is what the river is like in the dry season. In some spots, the water is very shallow – we actually grounded our kayak a couple of times.
Getting ready for our kayaking session
Off we go!
Our guide was apparently concerned about us getting too hot in sunny Laos weather. He kept splashing everyone with his paddle!
Not a bad backdrop for a kayaking photo!
The views from the river are stunning. Surrounded by green mountains.
There aren't many bars left, most of them have been closed down. But there are enough there for a short break whenever you need one. And they will help you get your kayak or tube to shore.
Our trusty kayaks waiting for us at our only bar stop. Even that was quite short as none of us were very keen on the techno playing at full power!
Me being a lazy kayaker and posing rather than paddling
A closed down bar by the river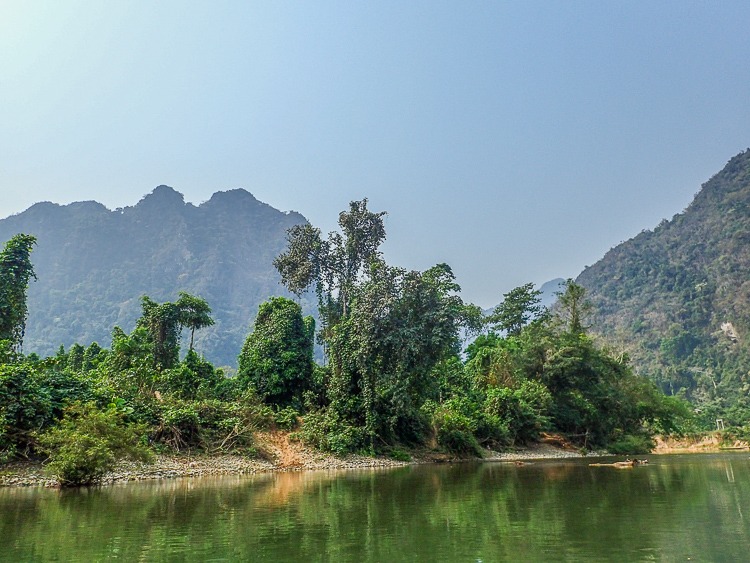 More stunning scenery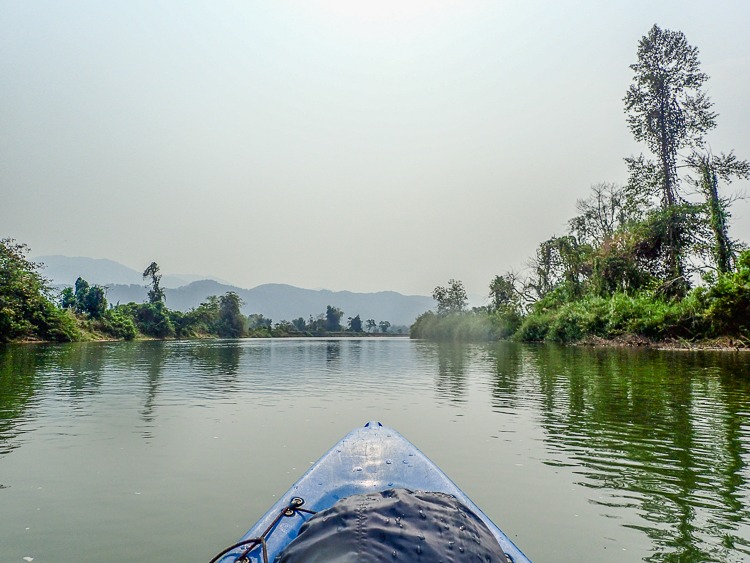 See? An empty river. Perfect, quiet place for kayaking, if you time it right
This is quintessential Laos: Intense green mountains right next to the river
Luckily, our kayaks were a bit sturdier than these boats. Have to admit these are more photogenic though!
Anyone else always feel like a turtle with life vests that are too big?
This woman is searching for river weed. It's a Lao specialty. They mash it up, make thin sheets of it, dry it and toast it, making it really crispy. It's usually served with a spicy tomato dip and perfect paired with some Luang Prabang sausage. And it's way nicer than it sounds!
Fake looking mountain – it is in fact real.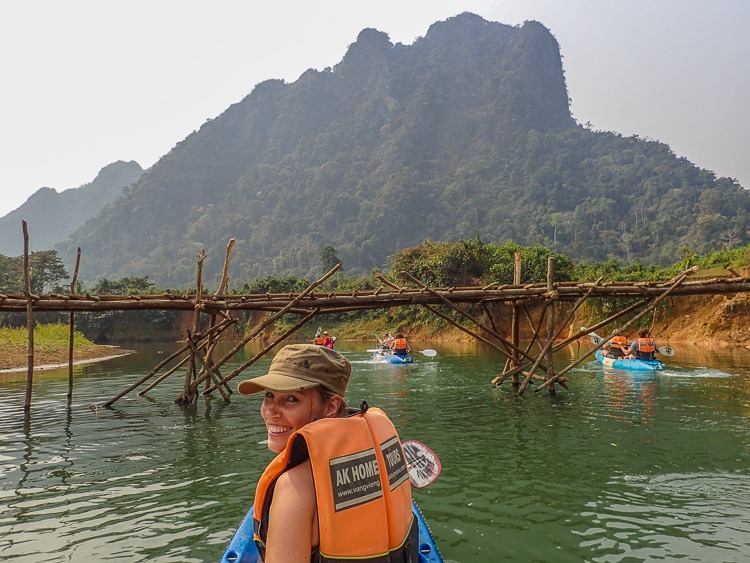 Nearly back in town, passing through underneath a Lao high tech bridge
What's the best place you've ever gone kayaking in?