Our Vietnam trip this year took us to a lot of new places, including Dalat. If you haven't heard of it yet, Dalat is a town in the central highlands of Vietnam, built around a lake and surrounded by forests and hills providing spectacular views. The area is hugely popular for "Easy Rider" motorbike tours as well. It's unlike any other place we've been to in Vietnam and at times felt more like the Alps than Southeast Asia. That feeling was also reflected, even augmented by the Ana Mandara Villas Dalat, the mountain retreat style resort we spent the majority of our time in Dalat in.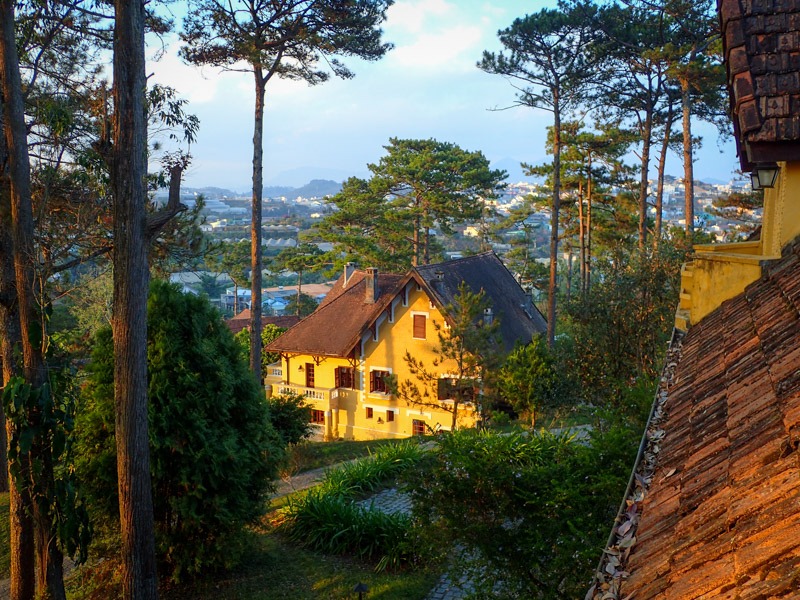 What's special about the Ana Mandara Villas Dalat
Dalat is a former French colonial town, and while much of the colonial feeling has been replaced by a buzzing town and generous doses of Vietnamese kitsch (Dalat is a top honeymoon destination for locals), the Ana Mandara has done an incredible job and maintaining and restoring Dalat's historic past to create a beautiful mountain retreat within walking distance from the city center with all its amenities. The resort is made up of 17 French villas which have been restored with painstaking attention to detail. The villas are surrounded by pine trees and flowers, making the resort feel like a small village in itself. Each villa houses a few luxury rooms as well as shared lounges and dining rooms. The restaurant and spa are each in separate villas at the center of this village setting, offering stunning views of the surrounding mountains and the city of Dalat.
Shared living room in one of the Ana Mandara Villas, with a massive comfortable sofa
We got to sample two different rooms in different style villas. Our first room featured old wooden ceilings and mountain views, while the second one had a working fireplace and old wooden doors leading directly into the garden. Both rooms had wooden floors underneath comfy carpets, the creaking sound of the floorboards adding its charm to the experience. Both rooms also had beautiful large bathrooms with free standing bath tubs which we very much appreciated on cold Dalat evenings. The furniture and decor was dark wood in style with the design of the villas. There was no plastic to be seen anywhere in the room. Toiletries came in refillable large ceramic dispensers and even the do not disturb sign was creative:
Do not disturb, the Ana Mandara way: Eyes open if you want your room made up, eyes closed if you'd rather not be disturbed. Beats the plastic door handle signs any day!
Our room in villa 13, with an old style wooden ceiling and a king size four poster bed
Our second room in villa 11, slightly more modern (but still period style) with a seating area facing a fireplace
In the center of the resort, there's a beautiful swimming pool surrounded by trees and flowers. Massive bonus: The pool is heated, which is wonderful as the Dalat nights are quite chilly. There were plenty of sun loungers with nice soft padding and a pool bar serving drinks all day long.
For those missing their workout routine, the Ana Mandara also offers a fitness room with cardio machines, dumbbells and an exercise machine. Free water and workout towels are available at the gym. The Cochinine Spa in the same villa offers a large variety of massages and other treatments for recovery afterwards.

The restaurant "Le Petit Dalat"
The restaurant at the Ana Mandara, "Le Petit Dalat", is located in the center of the resort near the pool and features both indoor and outdoor dining. The dining room, beautifully lit in the evenings, has a double staircase over a fireplace and decor matching the style of the building.

The menu includes both Vietnamese and European dishes. We sampled a seafood claypot and a beef curry, both of which were very nice. Our highlight was the dessert though, a green tea mousse with a mulberry sorbet on fresh passion fruit. Seperately, all parts were tasty, but together, they were amazing – a combination that just really worked.
Breakfast was served in a separate room in the restaurant villa buffet style with cooking stations offering soups, eggs any style and pancakes made to order. There was plenty of fresh fruit to choose from and a variety of western and asian items on the buffet, including a make-your-own-congee station with various toppings.
The verdict
The Ana Mandara Villas Dalat are a great choice if you want to combine a mountain retreat with a visit to Dalat. The hotel is close enough to the center of town that you can take a walk there, but taxis will also pick you up directly in front of your villa if you want to go further or just don't fancy walking. We enjoyed coming back to our villa after a day of exploring, relax by the pool for a bit and take a hot bath later. Little details like incense sticks and chocolates with turn-down service added a special touch to our stay. We'd go again next time we're in Dalat!
I enjoyed a complimentary stay at the Ana Mandara Villas Dalat courtesy of Ana Mandara. Opinions are 100% my own though, and I only recommend places and activities I truly enjoy!